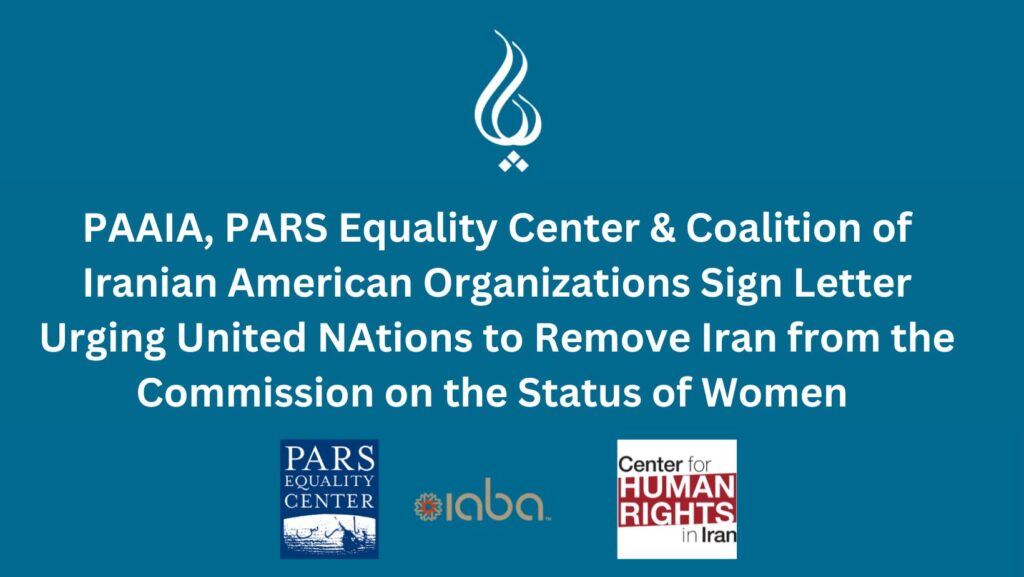 Washington, DC – The Public Affairs Alliance of Iranian Americans (PAAIA), PARS Equality Center, and a coalition of Iranian American organizations have signed on to a new letter calling on the United Nations to expel Iran from the body's Commission on the Status of Women (CSW), an arm of the UN which is committed to gender equality and women empowerment. The coalition includes PAAIA, Center for Human Rights in Iran, Iranian American Bar Association, and PARS Equality Center. 
Released in late October, the letter was organized by global experts on Iran and women's issues, including exemplary women such as Shirin Ebadi, Secretary Clinton, Malala Yousafzai, Nazanin Boniadi, Laura Bush, Michelle Obama, Mahnaz Afkhami, Gissou Nia and others.
Following the initial release of the letter, on November 2nd, Vice President Kamala Harris announced the United States will work to remove Iran from the Commission on the Status of Women.
PAAIA, PARS Equality Center and coalition members continue to condemn the violence towards women, including in the ongoing crackdown on peaceful protesters which has led to hundreds of injuries and deaths.