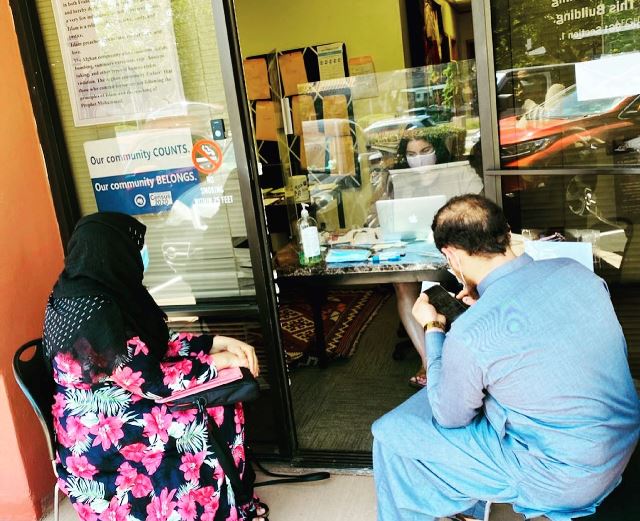 Pars Equality Center's Afghan Support Project is no longer taking new intake forms for individuals in Afghanistan as we have reached our capacity, and it has become even more challenging to file humanitarian parole cases with the new guidance provided by USCIS, which is also available in Dari and Pashto.
For those who have already submitted an intake to obtain assistance with filing humanitarian parole, we will continue to provide pro bono representation (when available) and assist with educational material to help pro se filing.  Please note that Legal assistance and pro bono representation are not guaranteed through our project due to the sheer magnitude of requests we have received to date.
We are pleased to announce that through our project thousands of humanitarian parole applications have been filed on behalf of the Afghan community. We have continued to provide strong legal and community education nationwide and on military bases. We understand the dire circumstances of your family and friends in Afghanistan.  We encourage you to access tools and information on our Afghan Support Project Page.  If you would like to stay connected with us about new information and guidance related to humanitarian parole applications and immigration news and information related to the Afghan crisis please click here to fill out our Pars Afghan Support Mailing List.
پروژه حمایت از افغانستان مرکز برابری پارس درخواست نامه های آزادی مشروط بشر دوستانه را برای نفرات در افغانستان دیگر قبول نمیکند چون حد اکثرمان رسیده میشود و بر اساس راهنمایی جدید که در زبان دری و پشتو نوشته میشود دشوارتر است که درخواست نامه های آزادی مشروط بشر دوستانه انجام بدهد
برای کسانی که قبلاً درخواستی را برای دریافت کمک در پرونده آزادی مشروط بشردوستانه ارائه کرده‌اند، ما به ارائه نمایندگی رایگان (در صورت وجود) و کمک به مطالب آموزشی برای کمک به تشکیل پرونده ادامه خواهیم داد. لطفاً توجه داشته باشید که به دلیل حجم زیاد درخواست‌هایی که تا به امروز دریافت کرده‌ایم، کمک حقوقی و وکالت حرفه‌ای از طریق پروژه ما تضمین نمیشود
ما خوشحالیم که اعلام کنیم هزاران درخواست آزادی مشروط بشردوستانه را از طرف جامعه ثبت کرده ایم و آموزش حقوقی و اجتماعی را در سراسر کشور و در پایگاه های نظامی ارائه کرده ایم. ما شرایط وخیم خانواده و دوستان شما را در افغانستان درک می کنیم. ما شما را تشویق می کنیم که به ابزارها و اطلاعات در صفحه پروژه پشتیبانی افغان ما دسترسی داشته باشید. اگر می خواهید در مورد اطلاعات و راهنمایی های جدید مربوط به درخواست های آزادی مشروط بشردوستانه و اخبار مهاجرت و اطلاعات مربوط به بحران افغانستان با ما در ارتباط باشید، لطفاً برای پیوستن به لیست پستی پشتیبانی پارس افغان ما اینجا را کلیک کنید